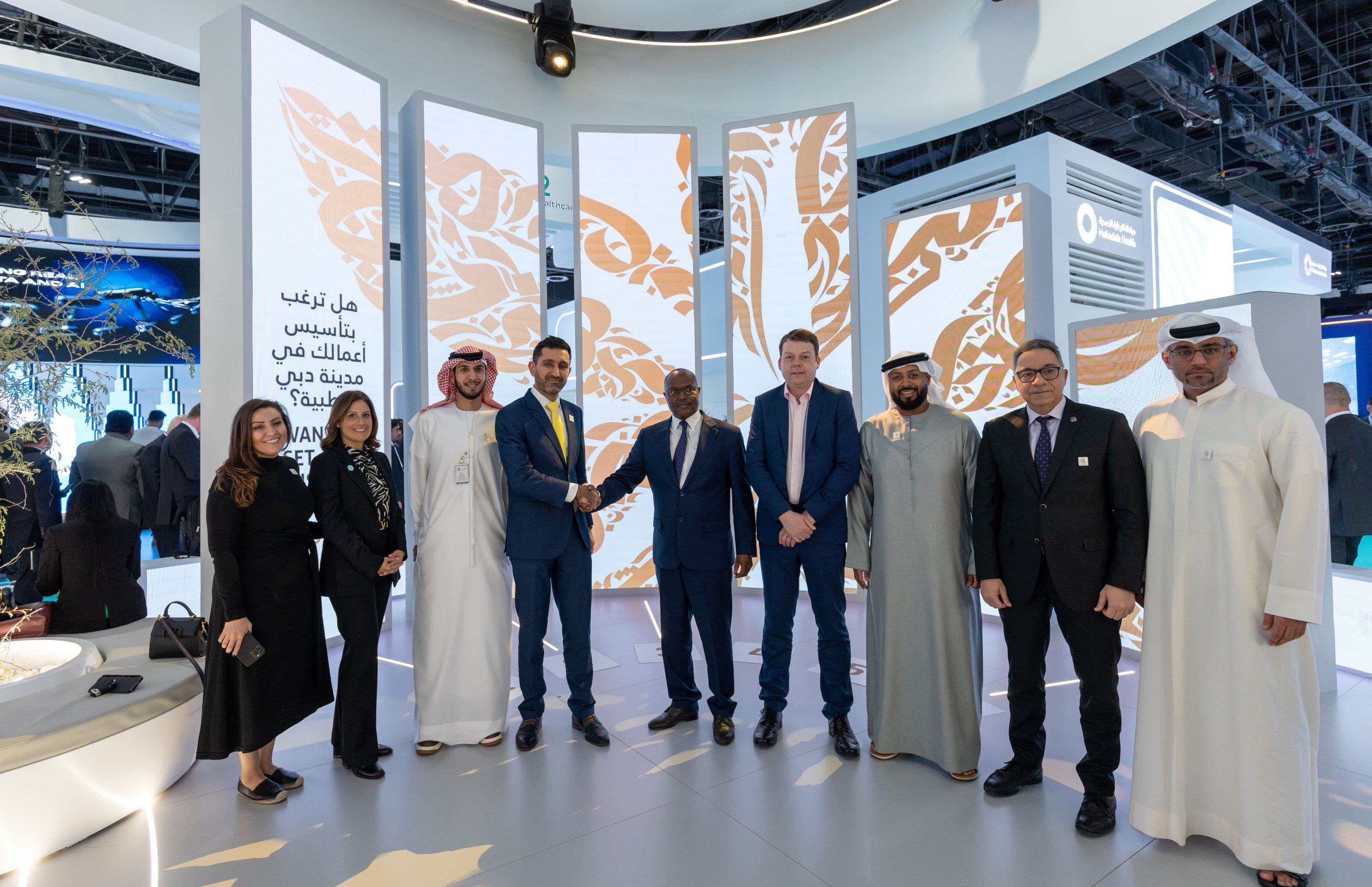 Tuesday, Jan 31, 2023
15% year-on-year increase in patient demand fuels Moorfields Eye Hospital Dubai plans for 20% growth in operations in DHCC
Agreement is latest success story as DHCC celebrates 20th anniversary and MEHD celebrates 15th anniversary
Dubai Healthcare City Authority, (DHCA), the governing body of DHCC, has signed an agreement with Moorfields Eye Hospital Dubai, which will see the leading British eye hospital branch expand its operations in Dubai by 20%.
The agreement was signed by Allae Al Manini, Chief Financial Officer, DHCA CEO andElhadi Hassan, Managing Director of Moorfields Eye Hospital Dubai at DHCC's stand in Arab Health 2023. One of the latest initiatives by Dubai Healthcare City (DHCC), the emirate's enabling healthcare and wellness freezone, to drive continued investment into Dubai thriving healthcare sector, and empower existing business partners to grow their business within the city.
The agreement comes as DHCC continues celebrating its 20th anniversary by showcasing, at Arab Health, its two-decade success stories and future plans. . Moorfields Eye Hospital Dubai, celebrating 15 years in Dubai is one of DHCC longest-standing business partners, having been present in the freezone since 2007.
Al Manini explained that the partnership is aligned with DHCC's goal to support Dubai's drive to improve its global competitiveness and position as a leading destination for quality healthcare services.
As part of Moorfields' operational expansion, additional region-first technologies will be available, for the increased benefit of the patients. The expansion will also see the introduction of a new VIP and Executive Examination Suite, as well as new clinical areas and additional waiting areas to better serve patients and accommodate the increased demand for Moorfields eye care services.
"At DHCC, we have created an ecosystem that enables business partners to thrive, while contributing to the growth of the healthcare sector and operational expansion of Moorfields Eye Hospital Dubai is a result our strategic approach. We have a long-standing partnership with Moorfields Eye Hospital Dubai and look forward to growing that relationship further," said Al Manini.
For his part, Mr. Elhadi Hassan, Managing Director of Moorfields Eye Hospital Dubai said: "We are privileged to be operating within a healthcare-focused community offering easy access to a diverse mix of patients in Dubai and beyond. Operating at DHCC has enabled us to grow from 3 doctors and 20 team members in 2007 to 30 doctors and more than 100 team members this year. This organizational growth was in response to a consistent increase in patient demand, with an average of 15% year-on-year growth in patient numbers. The planned 20% expansion in operations is a logical next step in our journey as we continue benefiting from the unwavering support from DHCC."
Moorfields Eye Hospital Dubai was launched at DHCC in 2007 and has since undergone constant development. It was the first to invest in the latest advancement in technology related to surgical visualization and retina imaging with a 3D Microscope and renovated retina scanner. It provides a comprehensive range of eye healthcare services capable of improving the lives of the patients with utmost speed and convenience.
Healthcare investors looking for an ideal destination to launch their business can learn more about DHCC services at the Dubai Healthcare City stand C30 (Hall 6) at Arab Health 2023, which runs at Dubai World Trade Centre under the theme 'Innovation and Sustainability in Healthcare' between January 30 to February 2023.