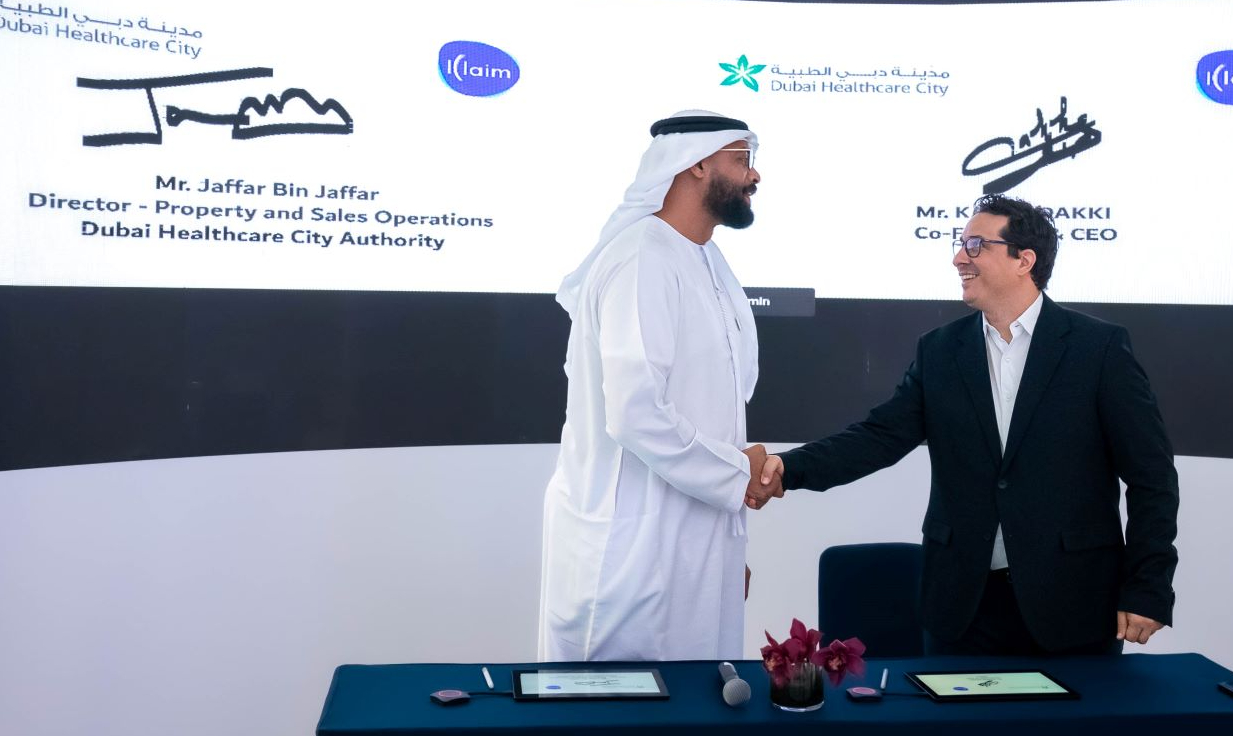 Wednesday, Feb 01, 2023
New technology will Speed up Insurance Claim Processing and Settlement
DHCC Partners Get Preferential Subscriptions to Award-Winning Next Day Funding FinTech Applications
Dubai Healthcare City Authority (DHCA), the governing body of Dubai Healthcare City (DHCC), today signed a Memorandum of Understanding (MoU) with KLAIM, the award-winning FinTech specialising in next generation healthcare revenue cycle management.
Under the MoU, signed at Arab Health, which runs at Dubai World Trade Centre until Thursday, DHCC stakeholders and partners will receive preferential subscription rates to KLAIM's propriety platforms, which are designed to boost performance, speed up insurance claims processing and settlement, reduce staffing overheads and improve the overall patient experience.
"This MoU comes as DHCC enters its third decade of operations with a focus on service excellence for our ecosystem by giving our partners access to innovative solutions that will further enable our partners, including hospitals, clinics and pharmacies, to ensure sustainability business growth while delivering quality, personalised healthcare," said Jaffar Bin Jaffar, Director of Sales and Leasing operations at Dubai Healthcare City Authority
Through KLAIM's user-friendly dashboard, DHCC partners will be able to visualise the performance of their facilities, get live analytics reports on which to make informed, real-time decisions and speed up insurance claims processing and settlement.
"This will eliminate the need for DHCC partners to manually check insurance eligibility, which can be now be verified in seconds, and settled the next day. It will boost revenue and cash flow by eliminating claim rejections due to eligibility errors and they can better control staffing costs and deliver a much-enhanced patient journey," commented Karim Dakki, Co-Founder and CEO of KLAIM Technologies.
"KLAIM is a new and better way to fund medical bills fast. No business can survive if cash stops flowing. Healthcare is no different and poor cashflow can be disruptive to its day-to-day operations. Our national data shows that insurance companies pay, on average, in 120 days because of delays in claims processing. Being able to speed up the process and getting access to cash will unlock unlimited possibilities to DHCC healthcare providers."
KLAIM will now provide a series of revenue cycle management services to DHCC partners. It will set up and configure its KLAIM X-Ray revenue cycle management analytics platform for DHCC providers to facilitate real-time analysis and reporting; its KLAIM Eligibility platform for real-time eligibility check and KLAIM Inspector, which will scrutinize claims prior to submission. KLAIM will also provide receivables purchase services to DHCC providers as well as 24/7 technical support.
"KLAIM technology will be another asset in our enabling ecosystem to allow business to thrive and our ongoing efforts to attract the best in class global and regional healthcare names to Dubai Healthcare City as part of the emirate's goals to become a leading global healthcare destination," added Bin Jaffar.
Healthcare investors and service providers looking for an ideal destination to launch or expand their businesses can learn more about DHCC services at the Dubai Healthcare City stand C30 (Hall 6) at Arab Health 2023, which runs at Dubai World Trade Centre until 2 February.